Secretary of State Rex Tillerson Out Amid Clashes With Trump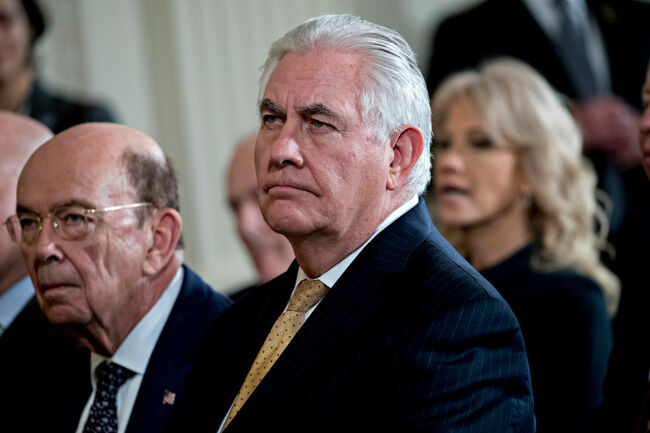 President Donald Trump has reportedly asked Secretary of State Rex Tillerson to step down from his post as Secretary of State, the White House announced this morning. CIA Director Mike Pompeo will replace Tillerson as Secretary of State.
The Washington Post reports Trump asked Tillerson to step down last Friday after a tulmultorous turn as America's chief diplomat that was marred by a series of disagreements with Trump over a variety of issues.
Pompeo will replace Tillerson at the State Department and Gina Hapsel - the deputy director at the CIA - will take over as the head of the CIA and will become the first woman to run the agency if she is confirmed.
Trump tweeted the announcement Tuesday morning along with his thanks to Tillerson for his service over the last fourteen months.
"Mike Pompeo, Director of the CIA, will become our new Secretary of State. He will do a fantastic job! Thank you to Rex Tillerson for his service! Gina Haspel will become the new Director of the CIA, and the first woman so chosen. Congratulations to all!"
At the White House before departing for a scheduled trip to California to tour several border wall prototypes, Trump told reporters that he and Tillerson disagreed on many things, and that Pompeo and he had similar thought processes.
Trump said he appreciated Tillerson's service and that he believes he will be much happier as a private citizen.
In his first comments after his firing, Tillerson thanks the diplomats at the state department for their "honesty and integrity" and the American people for "acts of kindness." Defense Secretary James Mattis was singled out by the former Secretary of State for his partnership and mutual support of diplomacy.
Tillerson did not thank Trump or praise his policies at any point during his departure speech.
Tillerson said he will remain at his post through March 31st, but will delegate all authority to run the State Department to Deputy Secretary John Sullivan. He also said he is committed to an "orderly and smooth transition" to Pompeo.
The shakeup at the State Department comes amid proposed talks and a potential nuclear showdown with North Korea. The Washington Post quotes three White House officials who say Trump felt it was important to make the change now, as he prepares for talks with North Korean dictator Kim Jong Un.
Republican Senator Bob Corker told reporters that he's heard nothing but good things about Pompeo and that he wasn't too concerned about winning confirmation votes from Democrats. He also said that while he has not personally met Pompeo, he knew President Trump thought very highly of him.