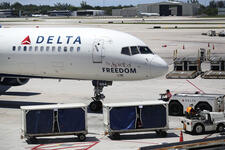 Tampa, Fla.-(Newsradio 970 WFLA)-Delta Air Lines says it will offer daily, year-round nonstop flights from Tampa International Airport to Salt Lake City. Tickets are available now, but the service doesn't start until December.
Salt Lake City has been among the local airport's top target markets. Daily, year-round service is expected to generate more than $16 million in economic impact to the Tampa Bay area.
T.I.A. CEO Joe Lopano expects the route to be popular among skiing fans and others wanting a mountain vacation. Lopano also expects lots of visitors from Utah to travel here for the warm weather and the beaches.
Delta already offers nonstop flights from Tampa to Los Angeles, Minneapolis/St. Paul, Boston and Cancun.
Photo courtesy Getty Images